Customer Centric Award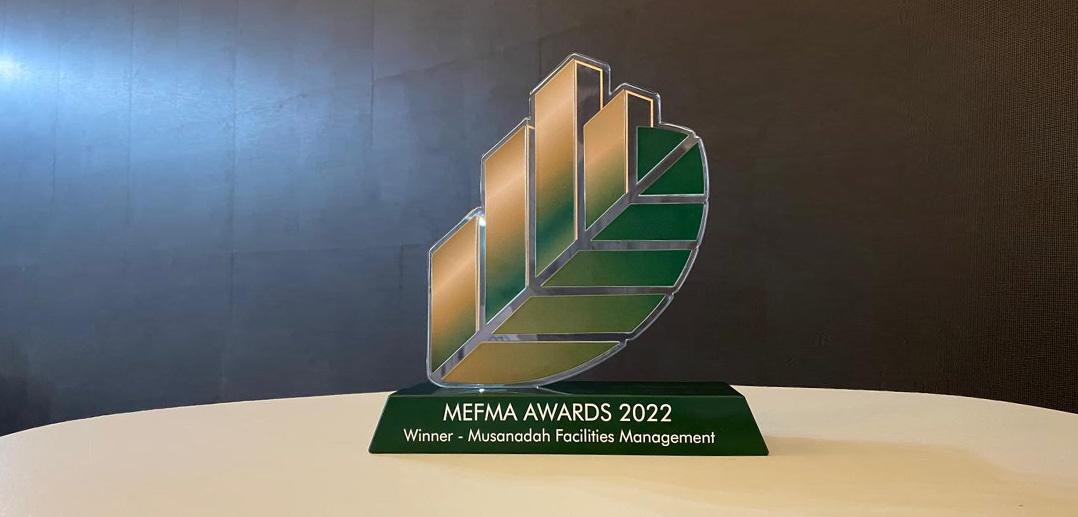 Feb 28, 2022
Musanadah Facilities Management is proud to have received the "Customer Centric" award at the Middle East Facility Management Association (MEFMA) awards CONFX held from 14-17 March 2022 at the MEFMA conference in Dubai, UAE.
The MEFMA CONFX seeks to provide a unique chance to network with leading facilities management professionals and decision makers, including government representatives, developers, and suppliers, in order to create a platform for sharing knowledge and experiences among industry stakeholders.
The event includes various local and worldwide case studies by prominent speakers and thought leaders, in addition to interesting panel sessions and multiple presentations. The context also includes an exhibition showcasing the latest solutions for this vital industry, expert-led workshops to discuss key topics in the region, field visits to educate and share best practices in the field of facilities management, and an awards ceremony for industry professionals in accordance with the awards requirements.

Mohannad Al-Madi, Musanadah's MD, stated about Musanadah winning the award: "We are proud to have been recognized in this category, which only goes to show how important our clients are to us. Many of our customers' businesses were spared from the pandemic's lockdown, and during those difficult days, our dedicated heroes were actively moving across the Kingdom to ensure the safety of their employees. Thank you to the Musanadah team for making this possible, and we look forward to competing in more MEFMA awards in the future."

This award is presented for meeting the specific requirements and satisfaction levels of clients, which results in a positive customer experience and demonstrates the value of delivering customer-centric solutions.
Introducing customer-centricity as an organizational culture as well as putting the clients first by anticipating their needs and by providing customized solutions. Making customer relationship management easier as well as embracing new technologies. This is the Musanadah strategy, and it is what sets the company apart from others in Saudi Arabia and in the Middle East.
Musanadah ensured that every team member was involved in improving the organization at the onset of the pandemic by encouraging staff to submit innovative solutions suited for each unique site within the boundaries of customers' overall service level agreements (SLA).
According to MEFMA's website: "Musanadah did not record one lost day by any one of its FM site teams nor was it necessary to close any site managed by Musanadah due to COVID-19 cleaning protocols not being met over the entire covid-19 pandemic period since March 2021. This is a credit to the effectiveness of the company's pandemic response plan and customer-centric principles by which the company works."
Back to News